Clip-Two – AngularJS Admin Dashboard Theme
Clip-Two is an advanced, responsive dashboard template built with AngularJS, the Superheroic JavaScript MVW Framework. This theme is mobile friendly and ready for you to customize it any way you want to use it. It comes with 5 complete themes: Clip-Two AngularJs Admin, Clip-Two AngularJs Admin RTL Version, Clip-Two jQuery Admin, Clip-Two jQuery Admin RTL and Clip-Two Frontend. AngularJS lets you extend HTML vocabulary for your application. The resulting environment is extraordinarily expressive, readable, and quick to develop.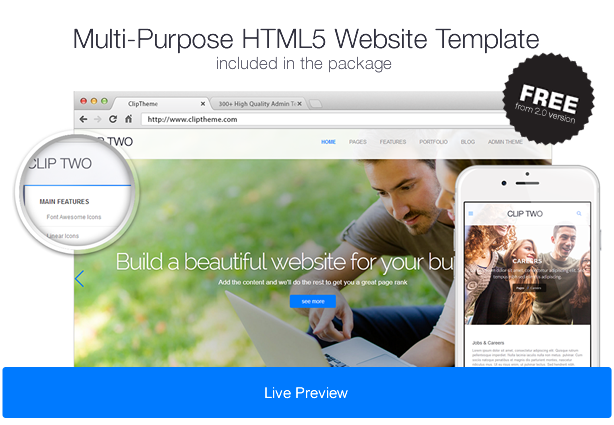 AngularJS 1.3.x

Bootstrap UI

Angular UI Router (with nested states)

6 different theme skins

4 level sidebar menus

100% fully responsive

Fully customizable

Documentation available

CSS3 Page Transitions

Loading Bar

Fixed and default Header Layouts

Fixed and default Footer Layouts

Fixed and default SidebarLayouts

i18n languages support

Translation loaded from JSON

RTL Support

Lazy Load scripts and styles

Dynamic pagination

Chat Directive

Nestable Lists

Tree Views

Custom Css3 select directive

XEditable

Image Crop

Fast click for Mobile

Widgets utility classes

Font Awesome Icons (+400 Retina Ready)

Linear Icons (Themify)

Validation form

Multiple File upload

Wizard with validation

uiSelect

jQuery powered

Autosave user settings

Chart.js

Sparkline

Custom Toggle buttons

Custom Radio Buttons and Checkboxes

Pricing Table page

Lock screen and Login pages

Panel Tools

Google Map

ngTables

Mailbox

Calendar

Timeline

Search results

Invoice

User Profile

404 Error pages

500 Error pages

Integrated WYSIWYG Editors (CKEditor)

Custom Scrollbar For Vertical Scrollable Contents

HTML Version Available
I've been searching for something like this for a very long time! I even considered creating a theme like this but never found time. This is like a unicorn, it fills every void I've ever had. Major props to Cliptheme for creating it, saved me many a heartache.
great theme, team, and professional support
Great support, big and clear code. Inspiring in any sense. One of my best purchases, if not the best.
Truly outstanding! I cannot praise you enough for the continued support and frequent updates! Great work!
I love this one. and with the new html version much more! 😀 thanks
This template is perfect for communicating ideas and design suggestions. Cliptheme was super responsive to questions.